AN EXPERIMENTAL LABORATORY FOR SUSTAINABLE TOURISM IN ITALY
A balanced tourism development is hard to achieve: either there are destinations which suffer from ovetourism or others, which would deserve to be discovered and promoted for their beauty, but still they are not.
One of these latter ones is the Monferrato area, in Piedmont, close to the extremely well known Langhe and Roero ( the hills of Barolo, Barbaresco and the land of white truffle). Monferrato covers a huge area, characterized by smooth hills, old hamlets and castles…every village here showcases at least one old manor. Monferrato is still truly genuine, far less exploited, if compared with the Langhe, which, conversely, have been going through a long-lasting tourism development (and for this reason, tourists are now moving elsewhere, to discover new places and experience new destinations), …..we say that the Monferrato atmosphere and its strong light in springtime and summer are to be found nowhere else.
Nevertheless, Monferrato is considered a sort of 'depressed' land from a touristic point of view. Being aware of its need of growth and development and considering several opportunities for local entrepreneurs of getting together and of matching a common goal of shared welfare, we have decided to promote 'Laboratorio Monferrato'. An experimental laboratory focusing on networking and on goals sharing. The idea is to enhance a sustainable tourism model, based on LICET values. LICET is a progressive path to sustainability, which gives strategies, tools and skills to monitor sustainable entrepreneurial actions involving all members of the touristic supply chain.
LICET is a participatory brand, registered by an Italian Association based in Turin, Aregai (www.aregai.it), which has assessed 5 sustainable criterias (beyond the usual three of environment, society and economy): Link with the land, Innovation, Competition, Eco-sustainability and Tutelage of every human being (L.I.C.E.T.).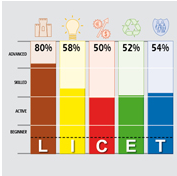 The LICET values fits so well with the XENìA (www.mediterraneaconsulab.com/en)  method of promoting sustainable tourism by the principles of the Mediterranean Diet. We have then set the first ambitious goal: identify the traditional Monferrato breakfast, as a healthy and tasty meal based on a completely  local supply chain. Monferrato is a land of farmers, hard workers of the land: breakfast has always been a major meal for them before they leave for the fields. Once again, food is the mean to convey the peculiarities of a destination. The participants to the second edition of Laboratorio Monferrato, at Piovera Castle last Saturday March 16, have given their own contribution to the project, with a number of ideas and advises about the Monferrato breakfast. Entrepreneurs, citizens and institutions which attended the Laboratory have clearly showed that the only true trigger lies in the strict connection between land, food and hospitality. We are at the kick off and proud of being part of such a  motivated team!
---